01-03-2021, 12:14 PM
Hello Guys,
I hope this is the right place to find some help...
I just bought the first Plarail set for my son (he's a shinkansen fan, despite living in Italy) and finding out that his S-16 speed-changing E5 Hayabusa was full of dust, I had the very BAD IDEA to clean it internally.
No problem until I unscrew the last cover to reach the engine: as I started to remove the cover, a little spring and some gears jumped out before I could have a single glance to the original disposition.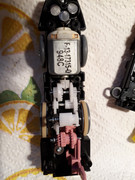 This picture shows my best guess, but I cannot restore the engine without a scheme (I'm not smart enough to understand how it is supposed to work). I'm completely puzzled with the small pink lever+ spring at the basis of the mechanism.
Unfortunately, my Japanese knowledge is less than basic, and I cannot find any tutorial searching in English only.
Could you help me, please?
Many thanX!
Daniele