Recent Load of Sweet Goodies arrived.
First up:
Until the last couple weeks when I have discovered 3 Rare Motorized vehicles that I now must have, I thought I had completed my set with these purchases. I do have one of those 3 coming but I am not so sure of its condition since it was buried in a bulk Lot of Diecast Cars. Except for the Crane the rest are new in their box even the 2 on the right whos boxes are in ruff shape but the vehicles are perfect. Yes, I do already have the Ad Truck but I liked it so much I needed (wanted) another. I also have this version of the McDonald truck but this new one is of course in a bit better condition. BTW: I blame Sunhuntin for all this.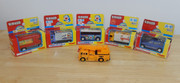 Next:
The Shuttling FerryBoat set...Awesome. A big thank you to Sunhuntin who put out the alert to this one.
The special Disney Diecast collection is really cool & colorful, new in box.
The Tomy diecast truck is something that has interested me foe a while but never scored one. New it is stamped with 1979 on the bottom.
I know, Super you already bought a Mister Softee Truck in your last haul I hear you say. True, but that diecasts electrical design isn't of high quality. This new in box one is fantastic and plays the Mister Softee theme song. No stickered graphics, all painted and...this has a battery access door on the bottom which the other has no access.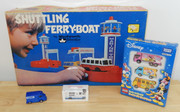 Last 3 Pictures:
Once again showing how that sometimes you have to buy a bunch of stuff you don't need just to a few things you need (want). I am amazed that I still keep discovering Plarail Expo Engines I hadn't seen before. These darn Livestock wagons have proved to be hard to attain. I only need one more now after acquiring eleven of the twelve that I needed to steal out the pigs and cows for. Of course what is not wanted is to be sold off.