We successfully excavated the true origin of Plarail just 3 hours ago on Twitter. There was a lot of brainstorming and very detailed explanations.
This was the main trigger of the topic, this is a french Playskool TOT set that featured lighter blue rails than Plarail and sharing similar traits with other child guidance sets. The owner of this set says that normal Plarail tracks do not connect properly.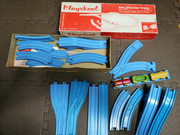 We all say that 1959 was the first Plarail year, right? Wrong, how about 1958 where the Prototype Highway Set was manufactured?
WRONG AGAIN
. It was actually
1950
. I will explain in detail.
The most solid proof I can give is this: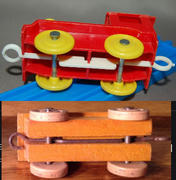 Lets introduce Keystone MFG. It was a company that manufactured toy trains after the World War 2.
This is a 1959 Plastic Train from TOMIYAMA vs a 1950 Wood Keystone MFG Train. They share the same way the coupler is attached. Whats more solid evidence is this: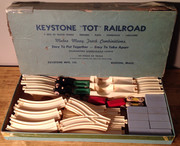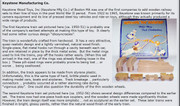 http://www.collectingkeystone.com/2014/03/18/1062/
http://www.collectingkeystone.com/2019/0...d-set-415/
 <- This link shows how similar the Plarail curves are.
Look at that Y rail, we all saw this in our child guidance thread in the Unrecorded Phantom Gems thread, there the Y rail was actually a SINGLE ITEM in the TOMIYAMA era and is a set item in the child guidance and Keystone TOT sets.
Also look at the 1958 Highway Set, they had English names for vehicles in a Japanese Set!!! This caused us to not believe that the origin of Plarail was from this set, but rather from a foreign English set.

Keystone fortunately had layout plans, which our team leader managed to replicate perfectly using normal TOMIYAMA rails. It's already a solid evidence that the blueprints of the rails were exported from USA to Japan.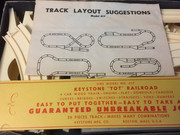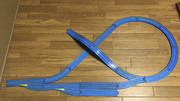 Lets introduce the German release of the ET-300 Express as seen in Plarail today. This is the origin of the Electric Plarail that was released in 1961.
This German HO gauge like ET-300 was a spring powered train released in 1953-1958, which is earlier than Plarail's first 1961 Electric Train. The Plarail train was based on a German design back in 1953!!! Why spring power is mentioned? Because that is the origin of all moving toy trains. This 1953 German model's wheel span and wheel base decided the design of Electric Trains that are running on tracks.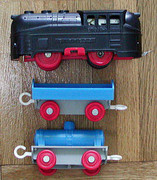 This image below solidifies the fact that: "Exported large toys overseas as technological innovations brought about a major turning point in the industry ... This lead to the export of large toys... ushering in a major turning point in the second half of the 1950s when metal was replaced with plastic and friction toys were in 1959 succeeded by electric toys."
https://heritage.tomy.com/history.html
 <- The weakness of this site is that it does not tell who superseded who.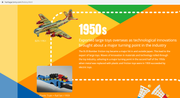 ーーーーーーーーーーーーーーーーーーーーーーーーー
Predicted Timeline by our team:
1950-51: Keystone launches TOT Railroad set #406
1954-57: Set #415 released
1957: Toyama Shoji Plastic Toy Design Department opens
1958: Keystone withdraws from toy business and sells rights to Playskool
1958-59: TOT Railroad set launched by Lincoln Logs (a subsidiary of Playskool?) (same as Keystone)
1959: Plastic rail set released by TOMIYAMA
1960-61: TOT Railroad set released by Playskool (same as Keystone)
1961: Electric plastic trains released by TOMIYAMA
Finally, I conclude that the first plastic rails were manufactured in 1950 and the first ideas of the electric train was in 1953, that belonged to Keystone (USA) and Germany respectively.