So I was browsing the internet and was looking at some Plarail Thomas Sets and this one caught my eye.
Its called the Plarail Bill and Ben Harbour Set and was released in 2002. This set is special in the way that it was the only release of the Plarail Bill in Japan. Bill's twin Ben was sold seperately, but Bill himself wasn't, meaning that the only way for the Japanese to get Bill was from this set. Now this set is one of only two sets that included the Cranky at the Docks destination, and interestingly, the version of Cranky in this set is coloured is dark green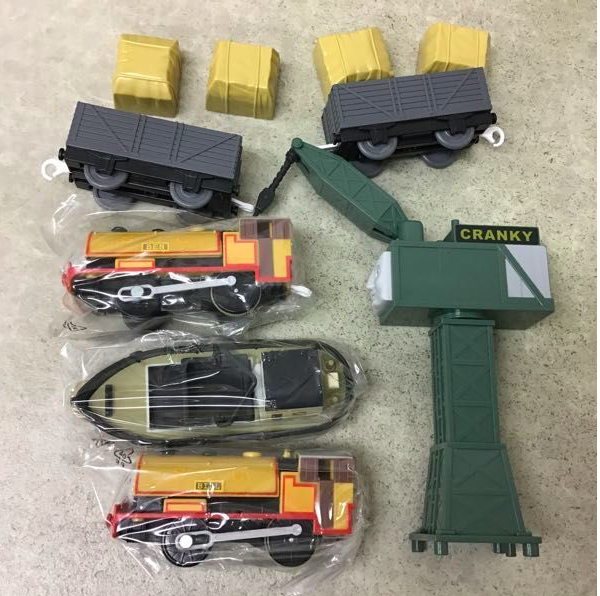 Where as the other cranky's (the ones released in the US, AUS, UK) are coloured in a light grey, which means it could be another possible variation that hasn't been discovered yet.
Now this set, much like the Donald and Douglas Snow Plough Set (pictured below) are similar in that they both include exclusive trains (Bill in this one, Douglas in Snow Plough Set) which often jack up the price of the sets.
Now the Donald and Douglas Slow Plough Set is one of the most sought after and wanted Plarail Thomas Sets there is, and has always been a rare and difficult one to find, and has always sold for many hundreds of dollars, and even in the thousands too. Even Plarail Douglas' on their own sell for $100-$200, even without the coveted snow plough. 
Now here is where I get to the Bill and Ben Set. Whenever I've seen this set for sale, its only ever been for a couple hundred dollars for a NIB one, and even less for a used one with the box. Plarail Bill's also sell for way less on their own when compared to the Plarail Douglas. Now this is where it gets a bit confusing.
I found a NIB one
here
 that sold not to long ago for $1340 AUD. Now when I saw that I was absolutely shocked. That is $200 more than a NIB Donald and Douglas Snow Plough Set that sold
here
 not too long ago too, way more money than most rare trains, such as the Silver Thomas and the Gold Thomas, and many would argue that the Donald and Douglas Set is way rarer than the Bill and Ben Harbour Set. So basically the whole point of this thread is to see if anyone can explain the EXTREMELY high price for one of these sets and why they are so desired now days, when compared to a couple of years ago, and if anyone possibly owns this set, maybe they could share some photos and explain a little bit more about the set?