Here are three things you may have never seen before, these are unused (sold to me as such anyways) but opened Thomas Battery Operated Rail System engine Accessory Sets from 1997. These are from the first year of marketing Plarail in the US and predate the Tomica World name by a year. You can see why they moved away from "Thomas the Tank Engine And Friends Battery Operated Road System" and called it Tomica World soon after.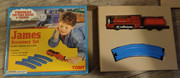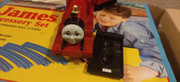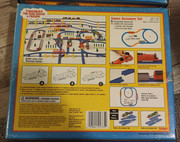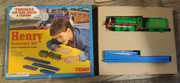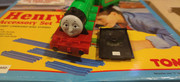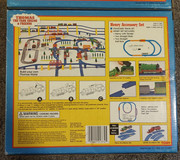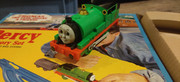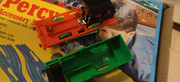 I first learned of these when I bought a 1997 issue of the Standard set boxed on eBay. I almost didn't believe they existed or were ever released until someone on Twitter said they had seen a picture of the Percy box years ago. Sure enough, they turned up on eBay and thanks to a tip off from another PBT user I bought them.
It's interesting to me how small this range was at the time. The only rolling stock was Annie and Clarabel in sets and then the log car sans logs with Percy. If you want more coaches or freight cars you had to buy more sets or lots of Percys. Track variety is small too, only one set comes with normal switches and the parallel switches are only available with Percy. The back of the box is a big tease too, showing characters and track pieces that would not be available for at least a year, with some never making their way to the states to my knowledge.
The engines look basically unused. All are dated as being produced in the summer of 1997. Interestingly, although it doesn't seem to have ever run, Percy's traction tires have hardened and the axle gear has split from years of sitting around the axle.