It has been some time since a new thread is opened by me. This time I will introduce all the errors in TOMY layouts by verifying them hands on.
パノラマ3(Panorama 3)
This layout was found in the February 1982 catalogue. The updated layout has been published in the February 1988 catalogue.
As you build the layout, there is a very obvious error. If you look at the finished layout in the catalogue, it is suspicious how they managed to make a full circuit.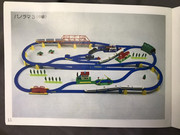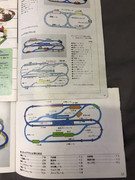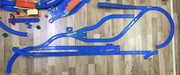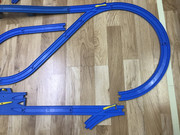 でんききかんしゃセット (EF-15 Freight Train Set, box layout)
A pretty obvious error where there is a rail on top of another rail. In this case, the こうかレール (white viaduct) is already a rail and there is a blue straight rail on it.
Additionally, red pivots & white cross signs on the railroad crossing is a prototype product.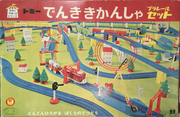 ちょうとっきゅうひかりごう ニューセット (Super Express Hikari New Set, box layout)
As pointed out by Super, the curved rail is underneath a white pier. The pier is too small to let the train go under it. Also, one of the trees are mysteriously taller than the other.
The earliest layout sample from the Early Hikari-Go Mark Era

No real building errors here, but the train will definitely hit the yellow block pier when switching over to the left lane. It is still considered an error.
More to come in the future...