I have never collected thomas wooden railway trains but this got me interested. 
So today I found a video on youtube by griffin rails about what is quite possibly the rarest thomas wooden railway toy ever: the BART (bay area rapid transport). This was actually the first time I heard of the Bay area rapid transport railway (stupid me, I know).
Apparently, around 2007, the thomas wooden railway had made - or was planning to make - a BART toy. There is pretty much no information about this toy beyond youtube. The only other website that has something about this toy is this website called wikispeedia (link below). The images (sadly in awful resolution) that I have below are the only known ones at the moment.
A possible reason why it's so obscure could be because it was cancelled due to the lead paint crisis? After all, it is apparently from around 2007, so it could be a reason.
When I first saw the videos about the BART, I was quite sceptical as to wether this is real or just a hoax (I honestly still am a bit), although the wikispeedia page supports it. What's more is that the page was also on the wayback machine and even though it only went back to october 24 2017, it shows the website was way before the video about the bart. And sure enough, the bart images were there.
I have not been able to find any more information about this item, so I want to get anyone who's interested to help in finding more info about this mysterious toy. If anyone has any info about this, please tell me as I really want to know more.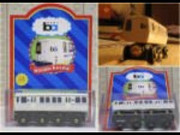 Link to the video: 
https://www.youtube.com/watch?v=fdtyzMTLy1o
Link to the page : 
Bay Area Rapid Transit (mcgill.ca)