I wanted to put 3D molded faces on the rolling stocks that don't come with it.
The easiest way to accomplish my goal is o use faces from existing engines. For safety reason, it is not surprising that it is very hard to remove the face off thr engines.
I don't have time to examine every type of engine in my collection. So far I have identify one where a person can remove the face relatively easily.
Trackmastet revolution lexi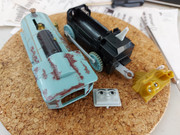 All you need is a screw driver with the triangle head. Remove the gold cow catcher and face will come of easily.