The coaches in the July 2020 Motorized Thomas, Annie & Clarabel (GHK82) are arguably the best looking of any Revolution/Motorized rolling stock to date. I'm thinking they have great potential as narrow-gauge coaches, being shorter than any previous coaches in any range, while still nicely detailed (rather than merely vans with stickers on).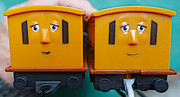 Before they're allowed on any real railway however, something will clearly have to be done about replacing those 'wheels' with actual wheels. You can't just make a straight replacement because the difference in axle diameter (5.5mm vs. 3mm) makes the fit way too sloppy, and because the difference in wheel diameter (21mm vs. 22mm) means there is insufficient clearance.
The first method used a length of styrene tubing. If I'd had 5.5mm OD / 3mm ID tubing to hand this might have been a really good solution, but the material I used was a bit smaller OD and a bit bigger ID, so the result was still a bit too loose for my liking.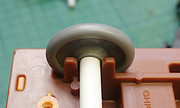 The second method used the plastic axle from the original 'wheels' drilled out to accept the 3mm metal axle, and with the 'wheels' cut off. This works pretty well.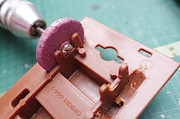 The third method is more work but I think it produces the best result. I removed the axle hangers from a Tomy chassis and glued them onto the Motorized chassis.