Welcome Zach's Custom Corner, where I show off the latest updates I have made to my TOMY/Plarail/TrackMaster trains. This includes repaints, minor details/modifications and others.
Today's modification is one I did to my Plarail Spencer.
As we all know, the connection between him and his tender is done through the stock-standard hook/loop system.
What I have done is I took out the couplings between him and the tender and took a bread tie I had lying around, and used it to not only 'permanently' attach them, but to also close the glaring gap between Spencer and his tender.
I also plan to do this with my plarail 2014/15 Gordon and James and Donald/Douglas (whenever I get them)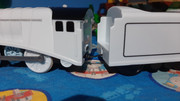 Hey y'all, it's your man Zak, probably finding ways to modify his toy trains.