I dubbed them
"Poor man's scale model"
In general, these are the kind of models made using templates that are available on the internet.
They are available as (mostly) PDFs contains pieces, which you can print out, cut and assemble to create the final model.
The quality varies and totally depends on how skilful you are; imagine puzzle, with glue, and in 3D.
Details also varies and most of the time the more detailed the model, the higher the difficulty level.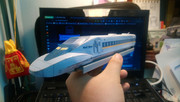 Here I'm having Shinkansen Hikari Rail Star paper model from JR West, which you can have a look at their templates of this Shinkansen and more: 
https://www.westjr.co.jp/fan/paper/shinkansen/
They don't mention the scale but from what I can see it's around 1:100.
I would say the template maker has broke down the general shape well enough, it looks recognisable. As an advanced model, the bogies are seperate from the shell, which adds a bit more to its realism.
Fun fact:
it fits Plarail track, and the standard length one is just long enough to fully contain both bogies, so that's something.