I've decided to make a thread of my TOMY/TrackMaster engines, regarding the ones that I've modified and customized.
So, to start things off, here's Peter Sam!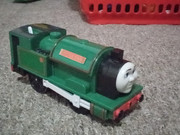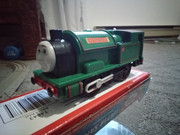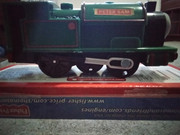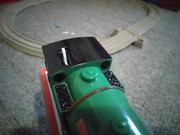 The first image is how he was when I got him, the next two show the chassis modifications, and the last two show the window details I added in.
His siderods are the normal ones, except I colored half of them with a sharpie. I also used the sharpie to do the window details.
His middle wheels are from the front wheels of a TM2 chassis, and I cut a bit of the top off to avoid making them stick out more than the rear and front wheels on Peter Sam.
To remove his fake siderods and extend his half axles, I used a nail cutter (I don't have a pair of pliers), and I used a filing tool, to remove the remains of the fake siderods on the shell.
Minor note I forgot: the middle wheels are held by Blu-Tack. I plan to replace it with superglue in the future.




.