Hey guys, I just bought this set (seller photo), and the description says that Thomas didn't work when a battery was put in, although, considering it looks so immaculate for being from the 90's (I think), I'm thinking I could probably fix it. However, it has been a while, and I don't remember a lot of the standard attempts at a fix, so I was wondering if you could help me? Thanks!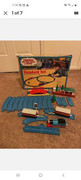 Model trains or TOMY?
I don't know, I just don't know.